A stay in our cabin is a refreshing surprise of English Country Cottage relaxation. Our two story log home has three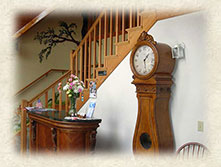 Guest Rooms; each with a different and unique appeal, a view of the gardens and lake, and its own private bathroom. A cozy front room lets you eat a full English breakfast with a typically British Theme, surrounded by wood walls, under cathedral ceilings with high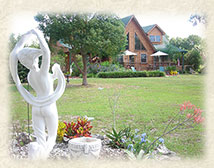 windows letting the sunshine in. Relax on the screened in porch, or enjoy the fresh air and eat breakfast on the deck outside looking out over the landscaped gardens toward the Lake.
Please note the following:
At present, we are currently not offering/serving the Full English Breakfast. In its place are Breakfast Bars, Porridge, Fruit & Hot Beverages;
All Room Rates have been ammended with regards to the Full English Breakfast change;
This may be subject to Change in the Future, when the Coronavirus is eradicated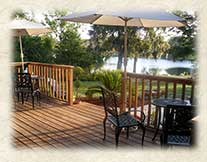 Relax on the new Patio & Gazebo area among the plants, wildlife, and foliage that warm you with a garden effect where our love of nature is evident. An open stairway leads to a Relaxing Sitting Area, overlooking the Gardens & Lake, where you can read a book, play a game or flip through the collection of magazines.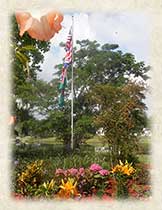 There are many reasons to stay with us, whether you are in the area on business or looking for a quiet get away. If it's romance your looking for, this is the place! Ask about the private massages and our other Special Offers and Packages. Lake Helen is a beautiful serene small country town dotted with historic homes and lakes. It is known as the "Gem of Florida" and it truly is. We're excited to share our little piece of heaven and meet new friends. We hope you will stop in more than once and join us in watching it grow. To learn more about Cabin on the Lake, please click on any link below.


222 Tangerine Avenue
Lake Helen, Florida 32744
(386) 951-2684
E-mail: info@cabinonthelake.com
www.cabinonthelake.com


Website Designed and Hosted by
B&B Inns of North America